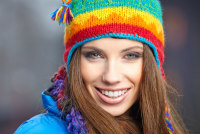 Every patient has their own reasons for deciding to undergo orthodontic treatment. For adolescents and teens, image has always been a key factor in social integration and in today's beauty conscious society, a beautiful smile is high on their list of priorities.
According to NBC TODAY – "Selfie Esteem" give teens a confidence boost and social media is the ideal platform to broadcast yourself to the world. "Even though that seems very simple, that's an extraordinary shift, historically. "It's the first time you get to be the photographer and the subject of the photograph," says Pamela Rutledge, director of the Media Psychology Research Center. "Control makes people believe in themselves."
65% of teenage girls reported that seeing their selfies on social media actually boosts their confidence.
40% of all teens say social media helps them present their best face to the world.
At least 81 percent of teens, ages 12-17, use social media sites, including Facebook, Twitter and Instagram, according to recent findings from the Pew Internet & American Life Project, with Instagram especially popular among selfie-loving teenage girls.
On other hand, many teens have mixed feelings about "Selfie Esteem". Social media can also make them feel bad about themselves.
55 percent of girls and 34 percent of teen boys say "overall, social media makes me feel more self-conscious about my appearance."
58 percent of teen girls say "seeing pictures of other people living glamorous-looking lives on social media makes me feel bad about myself." Only 19 percent of teen boys have the same reaction.
30 percent of all teens say social media means they always need to be "camera-ready."
Creating A Camera Ready Smile
With so much emphasis is being placed on looking good on social media and during personal interaction with peers, friends, and family, it's no wonder we are seeing so many adolescents and teens wearing braces on every corner to improve their smile and self-esteem.
Years ago, it wasn't cool to be seen wearing braces. Today, it accepted in all social, academic, and business environments, especially with more aesthetic braces and orthodontic alternatives that are now available. While metal braces are still the most popular, colored elastics are an option to switch up your look and ceramic brackets that are tooth colored and barely visible give young patients more confidence during treatment.
Invisalign, an alternative to fixed braces, is also popular with teens who don't want to be seen wearing braces and are mature enough to handle the responsibilities that go hand in hand with removable appliances. Aligners must be worn 20 hours per day and changed every two weeks, taking care to avoid loss or breakage.
Why Choose an Orthodontist?
Orthodontic treatment involves the use of braces and other dental technologies to apply precise forces that result in desirable re-positioning of the teeth. These changes improve not only the look of your smile, but the health and longevity of your teeth over a lifetime.
Some general dentists take continuing-education seminars in order to offer orthodontic services as a sideline to their primary services. Only your dentist knows what he or she is qualified to do well, however, with so much depending on the quality of treatment, choosing an orthodontic specialist helps insure that you get the best results possible.
The title of orthodontist is reserved for only those specialists who have undergone two or more years of additional post-doctoral education from an accredited university. Only 6% of all general dentists pursue the rigorous additional training required to become an orthodontist. In addition to having completed this training.
Membership in the AAO (American Association of Orthodontists) requires a degree from an accredited orthodontic program, it's an easy way to distinguish between dentists practicing orthodontics and those formally trained as orthodontists. Advanced Orthodontics is a member of the AAO.
Contact our office to schedule a complimentary smile exam. Find out first-hand how we can help you, or your child, achieve a healthy "camera ready smile" that is so important in the minds of adolescents and teens today.