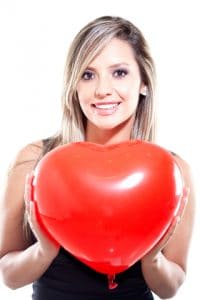 On Valentine's Day 2015, loving your smile is incredibly easy. Orthodontic treatment is the perfect way to treat that special someone to the gift of a new smile. Or…treat yourself to that perfect smile you have always wanted. There is no way to measure the happiness derived from a healthy, stunning smile.
A bright, beautiful smile can work wonders on your social life and even your career. Straight teeth can also benefit your health by giving you an effective bite and the ability to chew efficiently and also assist in keeping your gums and teeth healthy. Are you unhappy with your current smile? Are your teeth crooked or crowded or do you have uneven spacing?
Having a bright, shining smile that people notice is another great benefit that you receive from orthodontic treatment. Orthodontic technology is better than ever and you will be surprised at what it can do for you.
Our doctors at Advanced Orthodontics help patients of all ages achieve the smile of their dreams. We offer state of the art orthodontic treatment to meet individual needs and lifestyles with SureSmile braces, clear braces and Invisalign to enhance the quality of your life.
Valentine's Day is just a short time away… so call our office today to schedule a free smile exam for yourself or someone you love!